Specific characteristics of E-Commerce Hosting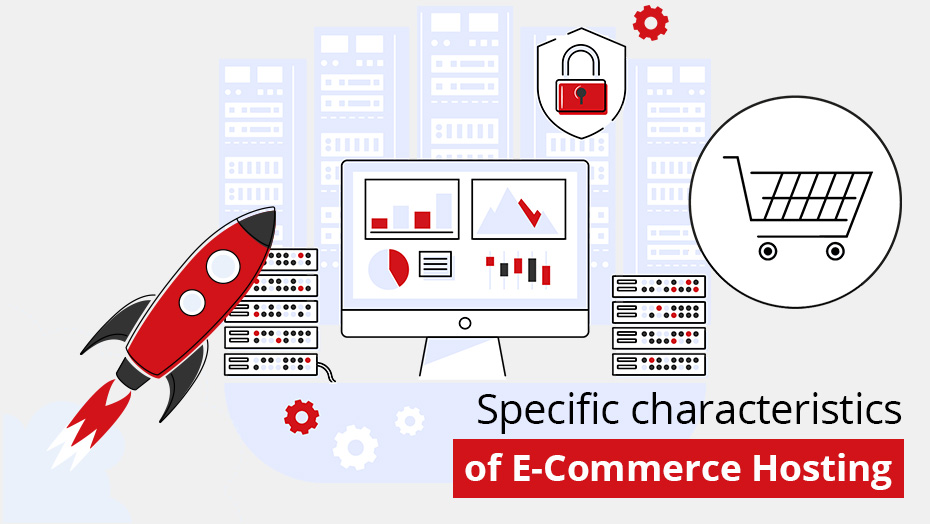 Hosting is one of the basic technologies of the internet and now has an incredible number of facets. In this article we give a basic overview of web hosting and take a closer look at the special features of e-commerce hosting.
Although many internet users have little or no contact with it, hosting is indispensable in the world of the internet. Without hosting, there would be no websites to call up on the Internet. The situation is similar for e-mails, files and domains. At maxcluster, for example, we specialise in hosting online shops. But what exactly distinguishes e-commerce hosting from "classic" web hosting? We get to the bottom of this question in the following article by taking a closer look at the specifics of online shop solutions and their requirements.
What is web hosting?
Web hosting generally refers to the provision of an IT infrastructure to run a web application. If, for example, you want to publish a website on the internet, you can't easily do this. In very simplified terms, websites consist of a large amount of data for which a physical storage medium is required so that the respective website can be accessed via a web browser.
The operator of a website therefore usually turns to a hosting provider who, for a rental fee, provides him with the necessary storage capacity on one or more external servers as well as the associated hardware.
What are the advantages of working with a hosting provider?
Of course, website operators can also operate the necessary server infrastructure themselves. However, the cost-benefit ratio is less profitable in most cases, as the acquisition, operation and maintenance of the infrastructure involves a large number of fixed and running costs. In addition, competent IT staff must be employed to carry out ongoing maintenance measures and to intervene in the event of problems.
Working with a hosting provider also brings many advantages beyond the provision of server performance and hardware. However, the range of services offered by the hosting provider varies greatly from provider to provider. Not only do the price models differ considerably, but also the performance and quality of the hardware, the scope of the warranty services, the scope of services and the response times of the customer support as well as many other services and functions.
If a shop operator uses managed hosting services, for example, the provider ensures that business processes run smoothly by guaranteeing the constant availability of the technical infrastructure. The provider's services here go far beyond the provision of the infrastructure, because it also takes over the configuration and maintenance of the servers. This also includes patch management and the implementation of regular (security) updates. If a server fails, the hoster also takes care of finding an adequate replacement. Since many providers have a failover system, it is usually guaranteed that the online shop is still accessible and no important data is lost.
In addition, the provider is also available to the shop operator with extensive support, proactive monitoring and also short-term adjustments to the resources. The customer usually has full access to his hardware and software setup via a corresponding web interface and can measure and analyse the performance of his website. Here you can find out what other advantages Managed Hosting has to offer.
What does e-commerce hosting mean?
Back to the starting point of this article, i.e. the question of what the distinguishing features are between e-commerce hosting and "classic" web hosting. Especially with regard to the aspects of security, performance and GDPR compliance, online shops come with some requirements that distinguish them from normal websites.
Security of online shops
Online shops usually process a large amount of sensitive, personal data. To complete a purchase transaction, buyers provide, for example, names, shipping and billing addresses, but also payment details such as account or credit card data, unless these are already stored in a customer account.
Telephone numbers and e-mail addresses are also often mandatory so that the shop operator can inform the buyer about the status of his order or contact him in case of problems. For example, after completion of a purchase process, order confirmations, transaction details or shipping confirmations are sent to the buyer by e-mail.
Due to the processing and storage of personal data, however, online shops are also increasingly becoming the target of cyber attacks of all kinds. In Germany alone, more than 108,000 cybercrime cases were recorded in 2020, according to statistics from the Federal Criminal Police Office. Slightly more than 10,000 of these are related to the theft and unauthorised disclosure of personal data. In addition, the statistics show that the number of cyber-attacks is increasing from year to year. The most common cyber attacks on online shops include phishing and DDoS attacks.
Shop operators who want to be as well armed as possible against cyber attacks would do well to take the possible risks and damages seriously. Even smaller shops are often the target of such attacks. In addition, it is worthwhile to always keep the software used up to date. Critical security gaps are usually closed as quickly as possible after they become known through corresponding security patches from the respective provider. Regular malware scans on the application and server side help to identify malicious code at an early stage. Darüber hinaus sind auch die Implementierung einer modernen Firewall sowie regelmäßige Backups von Vorteil.
Cooperation with a hosting provider specialising in e-commerce can relieve shop operators in several respects, as many relevant security aspects are often already included in the provider's range of services.
Performance of online shops
The performance of your online shop is an important cornerstone for your success in e-commerce. Why? Because poor performance can have a negative impact on your conversion rate. This in turn often results in declining sales. If the shop loads too slowly or is inaccessible to the user for some time, the number of visitors will drop and potential buyers will take up offers from the competition. If you would like to learn more about how you can specifically increase the conversion rate of your online shop, you can find more information in the blog post linked here.
Optimising online shop performance already starts with hosting. In addition to the hardware used, the influencing factors include the shop system used, the number and size of the features and plugins used, and the size of the product range, which in turn is presented on the basis of text and image content. If the number of visitors to your online shop increases continuously or suddenly, this can also have a negative impact on shop performance.
For the high-performance operation of an online shop, it must first be ensured that the performance of the underlying hardware corresponds to the shop size and the user traffic. If the number of servers and working, file or database memory are not sufficient to handle the computing load, this will lead to longer loading times. In the worst case, the shop is no longer accessible to the end user at all.
In such cases, however, the storage capacity of the hardware does not necessarily have to be increased. On the application and server side, there are numerous functions and tools that are designed to reduce the server load. With the right software setup, various worst-case scenarios can be effectively prevented. In this way, problems can be completely bypassed or diagnosed and remedied at an early stage after they occur.
Keep software up to date
In terms of performance, it is also advisable for shop operators to keep the applications they use up to date and regularly install available updates. These are often accompanied by new functions that have a positive effect on the performance and stability of the respective application.
Measure loading times
If you want to improve the performance of your own online shop, you first have to make it measurable. This can be done, for example, with the help of various analysis tools that read out relevant loading times such as the total loading time of a website, the time to first byte or the PHP execution time. With the help of profiling tools such as Tideways or New Relic APM, problems that are responsible for performance bottlenecks can also be identified. In this way, both specific performance problems and general potential for improvement can be uncovered.
Optimise application
Depending on the shop system used, there are various ways to reduce the load and thus also the loading time of the application. With the help of other software solutions such as Varnish or Redis, significant performance improvements can be achieved with the right configuration. PHP-based applications also benefit from increased performance, provided they are compatible with newer PHP versions and one of these newer versions is used.
Optimise Frontend
Especially for medium-sized and larger online shops with a wide range of products, the frontend also has some potential for optimisation in terms of performance. For example, CSS and JS files can be compressed by removing superfluous whitespaces, line breaks or comments. Since image files that are too large also often cause an online shop to load more slowly, they can be converted into more modern image formats such as WebP in such cases.
When choosing a storefront theme, shop operators should also make sure that it does not impair the performance of the online shop. It is therefore worthwhile to test themes not only in terms of design and usability, but also in terms of their performance.
GDPR compliance
For online shops based in the EU, the GDPR provides the legal framework for handling personal data. This is also important with regard to hosting. Therefore, also make sure that your hosting provider works according to European data protection guidelines when commissioning data processing and provides you with all relevant information about this in a transparent manner.
E-commerce hosting at maxcluster
At maxcluster we understand the managed hosting of e-commerce applications and are particularly specialised in online shops based on Shopware and Magento. With a well thought-out concept and certified service staff, we support shop operators in becoming even more successful in e-commerce. In this way, we enable our customers to configure their servers, storages and web applications individually and in line with their requirements.
Managed Center and E-Commerce Stack
With our e-commerce stack, which consists of efficient tools and services for monitoring and optimising online shops, we provide our customers with a comprehensive toolbox for analysing and improving their applications. From the choice of web server (NGINX or Apache) to setting up services such as Varnish, Redis or Elasticsearch: in our specially developed web interface, the Managed Center, many useful services are already pre-configured and can be installed and individually adapted at no extra cost and with just a few clicks.
Professional support around the clock
In e-commerce, sometimes seconds count, so the most important thing for us is to offer our customers fast help and the greatest possible flexibility. Our trained Linux administrators are available to our customers 24/7, 365 days a year, and provide support for questions and problems. In addition, they take over monitoring and proactively point out potential sources of errors and problems that arise.
In addition, processors, memory and storage space can be dynamically scaled during operation. In this way, it is possible to react to increasing shop traffic at short notice, for example on promotion days or after the broadcast of TV commercials.
Security at maxcluster
With regard to the security of online shops, we work with the highest standards on both the hardware and software level. Our servers are located in a TÜV-certified Tier III+ data centre in Frankfurt am Main, which has a multi-level security concept and offers an optimal infrastructure for business-critical applications.
Our 1:1 redundant enterprise server hardware offers high performance in addition to fail-safe operation due to double redundant data storage on NVMe SSD. In addition, backups of all databases and the file system are carried out daily.
With the help of the ShopSecurity function, our customers can carry out extensive malware and shop scans quickly and easily via the Managed Center. We also use the Voxility service to protect our customers' applications from DDoS attacks at the network level. Free SSL certificates via Let's Encrypt can be set up via our Managed Center with just a few clicks to ensure encrypted data transmission.
If you would like to find out more about e-commerce hosting at maxcluster, you can reach us by phone at +49 5251 4141 350 or by e-mail at beratung@maxcluster.de. Our technical consultants look forward to your call or email!
Conclusion
E-commerce hosting is characterised in particular by the fact that in most cases there are significantly higher requirements in terms of security and performance than with classic web hosting. This is mainly due to the fact that the technical infrastructure of online shops must be powerful, high-performance and designed for continuous operation so that the shop is accessible online around the clock and runs stably. The use of supplementary software solutions can also ensure an additional reduction in the computing load.
Another important point is that online shops process a lot of sensitive data and therefore require high security measures. Online shops must be as well equipped as possible against cyber attacks of any kind and - at least in Europe - operate a data protection system that complies with the Data Protection Ordinance (GDPR).
Working with a provider of managed hosting services experienced in e-commerce has the advantage for shop operators that the server infrastructure required for operation does not have to be operated and maintained themselves. The provider takes over the maintenance of the systems and ensures that regularly available updates are installed. In addition, the provider is available to the shop operator with know-how and service if support is needed.
---
Published on 24.01.2022 | DR
You have questions, requests, criticism, suggestions or just want to tell us your opinion about our blog? Here you have the opportunity to contact us directly.
Send e-mail