Identifying bottlenecks with 3 efficient profiling tools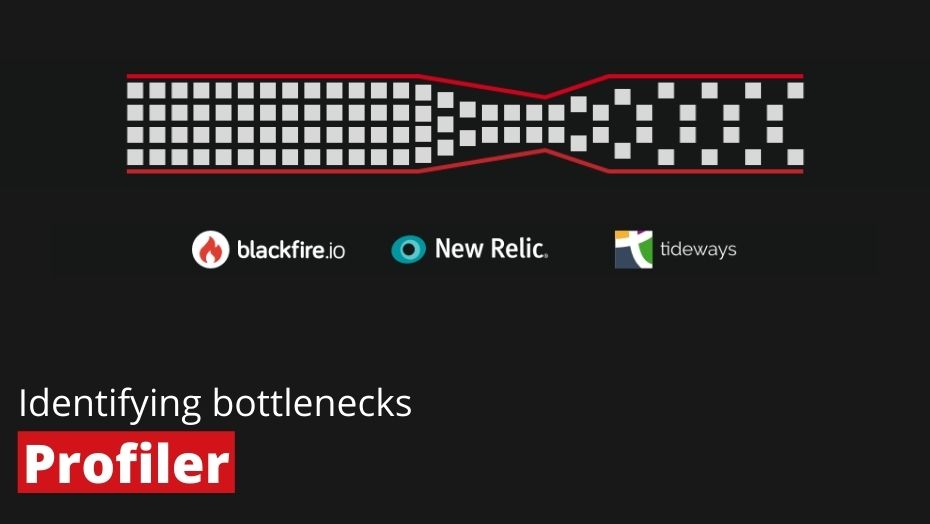 In this blog series we present the three most efficient profiling tools for e-commerce: Blackfire IO, Tideways and New Relic APM.
PHP Profiling Tools in e-commerce
These profiling tools make it quick and easy to identify bottlenecks and fix problems. Without a suitable tool, developers would have to find and fix the problems in a slow, less efficient way. In e-commerce, profilers are used to optimise the performance of online shops.
While there are many powerful PHP profilers on the market, such as Xdebug or XHProf, three tools have established themselves for e-commerce: New Relic APM, Tideways and Blackfire IO. In our view, these three tools are particularly efficient for analysing online shops. We have already integrated the three profilers into our e-commerce stack. They can be activated in our Managed Centre with a simple click of the mouse. In the blog series, we will explain why we believe these three profiling tools are efficient tools for finding and analysing bottlenecks.
About this blog series
In this blog series, we will introduce the three tools individually. For each of the three profilers, there will be an article that is intended to clarify the added value of the profiler. On the one hand, we will describe the general points such as area of application, scope of services and cost models. On the other hand, we will visualise the profiler's user interface and graph display with screenshots. Furthermore, we describe the advantages and disadvantages of the respective tool. To further illustrate the benefits, we then solve a fictitious problem using Blackfire, Tideways or New Relic APM. The blog series concludes with a comparison between the three profiling tools.
Part 1: Blackfire IO
In this article we will give an insight into working with Blackfire IO. We will present the wide range of possibilities already offered by the free Hack Edition. As with New Relic and Tideways, Blackfire IO can be used to analyse runtime or memory consumption as well as other metrics.
Part 2: Tideways
The strengths of Tideways lie, for example, in the targeted analysis of known runtime problems with a very clear display of the timeline. Tideways can even be tested free for 14 days.
Part 3: New Relic APM
With New Relic APM, long-term monitoring and evaluation of the application is possible. Data from many metrics can be collected and bottlenecks can be easily identified. New Relic APM alerts immediately when problems are found.
Part 4: Comparison of the three profilers
In the fourth and last part of this series, we finally draw a comparison between the three profilers. Which tool can be used most efficiently for which problems? Which profiler is particularly suitable for which metric?
More posts in this blog series
---
Last updated on 13.12.2022 | MM
You have questions, requests, criticism, suggestions or just want to tell us your opinion about our blog? Here you have the opportunity to contact us directly.
Send e-mail