Cloud solutions and Managed Hosting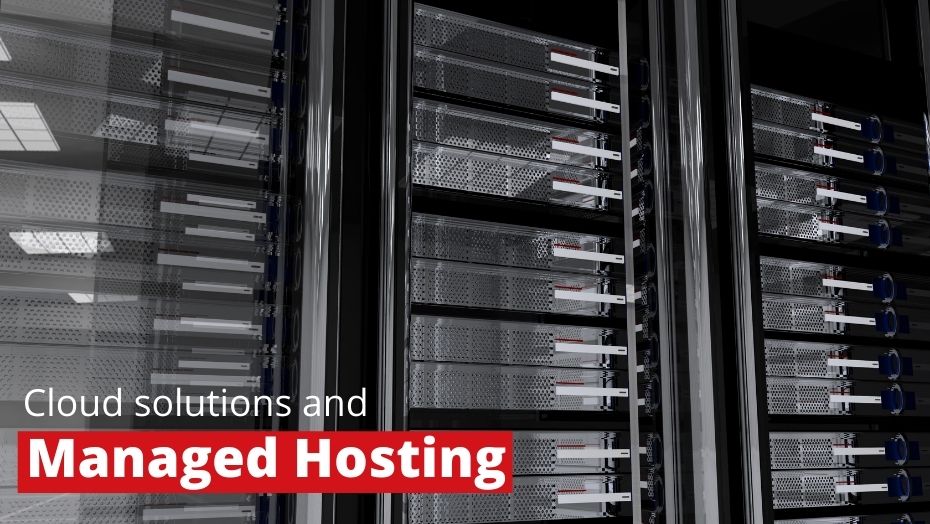 Shared Hosting? Cloud Hosting? Colocation Web Hosting? Managed hosting? When looking for the right hosting solution, the range of options for store owners can be confusing and raise many questions.
There is no single recommendation in favor of a hosting variant, because the basis for a decision in favor of a solution is always the individual requirements of the store and the company behind it. In our article we present some variants in more detail.
What is hosting?
If you enter this question into Google, the search engine throws up more than four million results. Hosting is the provision of hardware and network to run an application, an online store or similar. The hardware is usually managed by the provider and is usually also initially provided with an operating system.
Hardware usage for hosting
Even if "the cloud" suggests that data floats freely around in orbit, the reality is of course different. All data, whether "in the cloud" or not, is stored on physical servers and then accessed from there. In the case of the servers, i.e. the hardware, there are then different variants depending on the operator.
Web space
This type of hosting is also known as "shared hosting". The online store is located on a server that is shared with many other customers. The software is usually pre-configured, and individual additional software cannot usually be installed. Also, not all settings are possible with this type of hosting.
V-Server
With V-Servers or Virtual Private Servers (VPS), several virtual servers are located on a "real" hardware server. There are different technical solutions - the most common are VMware, KVM, Virtuozzo and LXD. The division into several virtual servers enables a high degree of flexibility in use, but also causes a similarly high administrative effort for the store operator as with a dedicated server.
Dedicated server
The dedicated server, also called root server or managed server, offers the customer exclusive, i.e. sole, use of the hardware. In practice, this is sometimes only necessary for compliance reasons. With this solution, the online store operator has full flexibility in the installation and configuration of his software, but updates must be installed himself.
| | | | |
| --- | --- | --- | --- |
| Software | Server | Settings/Configurations | |
| Webspace | Preconfigured; usually cannot be installed individually | Shared with other customers | Not everything can be set and configured |
| V-Server / VPS | High flexibility in installation and configuration; administrative effort for the user | Multiple virtual servers on one hardware server | High flexibility in installation and configuration; administrative effort for the user |
| Dedicated Server / Root Server | Full flexibility in installation and configuration; updates have to be installed by the user | Exclusive use of hardware | Full flexibility in installation and configuration; updates have to be installed by the user |
Overview of the server options with hosting.
What is Managed Hosting?
In addition to the listed different variants of hardware usage in hosting, managed hosting is primarily about the service, i.e. the support provided by the hosting provider. Managed hosting is therefore not so much a server solution, but rather the service that, for example, installation and configuration are carried out for the store operator - but of course the IT infrastructure is also provided by the hoster.
Depending on the service provider, the support can vary, so managed can range from updates of the operating system to the debugging of services. As a rule, however, configuration, maintenance and upgrades of the operating system, the required software, maintenance of the hardware, data backup through backups, protection of the network from third parties, and consulting are all part of managed hosting.
What is cloud hosting?
Cloud hosting is not a single product, but often a complex portfolio of different services - servers are only one component of it. Technically, they are v(irtual) servers that can theoretically be in different locations. The decentralized servers increase speed, as users sometimes access the online store via different servers.
In order to run many v(irtual) servers on one real server, CPUs with many cores but low clock speed are often offered. However, applications such as PHP benefit from a high clock frequency during execution, so disadvantages can arise.
The customer can add additional services such as managed databases, Redis, Elasticsearch, but also AI (artificial intelligence) and machine learning as well as serverless solutions such as Google Cloud Functions or AWS Lambda or Paas, such as Google AppEngine or AWS Elastic Beanstalk to their hosting. Depending on the service booked, backups, installations, configurations and updates are then also carried out for the customer. However, if the customer opts for "space only", he is responsible for the entire administration.
However, this often makes the already complex pricing model even more confusing, and costs are often not directly apparent - traffic in particular can quickly become expensive, and the hardware for the managed services is also often significantly more expensive than the "naked" V-server. The advantage of this pricing model is the often per-second or per-minute billing and the access to any number of resources, which the customer gets quickly.
Managed Hosting Services at maxcluster
At maxcluster, hosting as well as managed services are specifically designed to meet the requirements of e-commerce. In order to offer online shop operators the best support, maxcluster has developed a well thought-out concept: from the server to the firewall to the storage, everything can be configured individually according to the respective requirements.
Data center
Our TÜV-certified Tier III+ data center with its high-quality server hardware is located in Frankfurt and meets the highest security standards. In the area of fire protection, this includes fire compartments, increased fire resistance, early fire detection and a gas extinguishing system that fights fires actively, significantly more effectively and with less potential for consequential damage.
Of course, security is also a top priority for customer data. Storage on servers in a German data center guarantees security in accordance with the German Data Protection Act (DSGVO), while our firewall and the use of Voxility protect our customers from DDoS attacks.
Backups
Our backup solution ensures that no data is lost even in the event of an emergency. Backups are performed automatically every day for a period of fourteen days and stored in a separate fire compartment. Databases and files are considered separately in this concept:
Databases are checked by us as dumps via mysqldumps daily and additionally randomly for consistency.
For all files, a full backup is performed every 7 days, after which backups are created for incremental changes.
Additionally, we check every day if there is a backup of the database and the files. If a backup is not available, we make it manually. If you need your data back after a data loss, files and dumps can be restored through our Managed Center.
Services, tools and features
Whether choosing between NGINX or Apache web servers, services such as Varnish, Redis or Elasticsearch, or the right profiling tools, such as Blackfire.io, New Relic and Tideways - everything can be tailored to individual requirements with just a few clicks. Our "Managed Center" gives you access to these parameters and configurations and the ability to make adjustments and manage them independently.
By the way, constant maintenance and updates of all services offered through us are a matter of course for us.
Help around the clock
Managed hosting is not an empty promise for us, but the core of our company. That's why our service staff is personally available to you around the clock 24/7/365. Be it setting up your online store, questions about security or problems configuring services and tools, our support team will assist you with all technical issues. In addition, we have a mature monitoring system and proactively point out bottlenecks and sources of errors and work out the necessary solution steps with you.
Conclusion
In e-commerce, managed hosting makes sense for companies that do not have the human resources to ensure the stable operation of online stores. Using managed services allows customers to focus on what matters most, their core business: creating real benefits for consumers and designing an engaging shopping experience.
---
Published on 16.06.2021 | NM
You have questions, requests, criticism, suggestions or just want to tell us your opinion about our blog? Here you have the opportunity to contact us directly.
Send e-mail