Greater success on Black Friday, Cyber Monday and Co.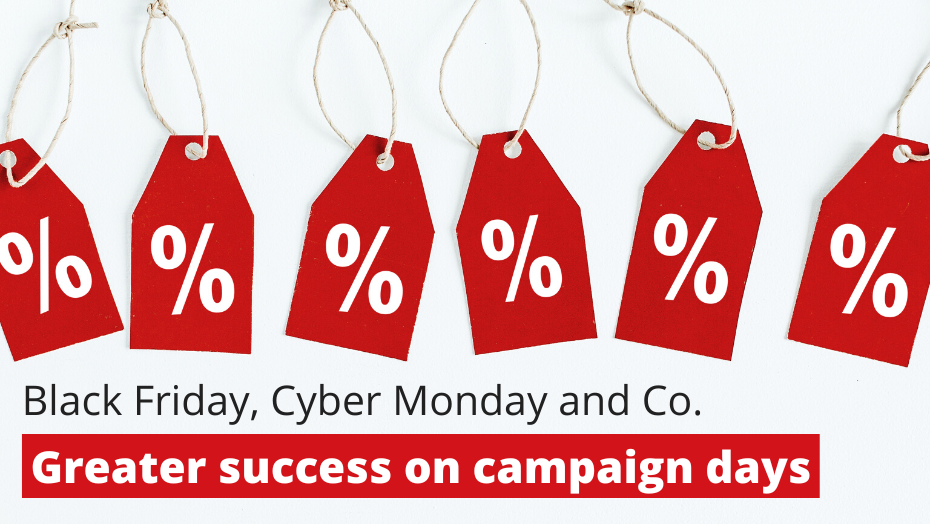 Black Friday, Black Week, Cyber Monday, Cyber Week: Both in e-commerce and in stationary trade, retailers lure their customers every year towards the end of November with discounts and offers. These tips will make planned campaign days a success for shop operators.
Black Friday has been a firmly established event in the US economy for many years. Year after year, millions of Americans jump into the shopping fray on the day after Thanksgiving to get the hottest deals in the stationary trade.
In Germany, the first attempts to copy the trend from the USA were made shortly after the turn of the millennium. With success, because Black Friday has also taken place here annually since 2013 and has recorded higher sales and participation rates from year to year. In contrast to the USA, however, the focus of the campaign days in Germany is on online retail, while in the USA only Cyber Monday is relevant for e-commerce.
Why is it worthwhile for shop operators to participate in Black Friday?
Yes, in 2021, sales growth on Black Friday in Germany fell short of expectations for the first time. For many critics, this was a cause for concern and talk of a turn away from this consumer trend. The following aspects show why this is not true and why promotions on Black Friday, Cyber Monday and Co. are still worthwhile for shop operators.
Campaign weeks instead of campaign days
Currently, it can be observed that the consumer behaviour of Germans is shifting. This study by Criteo shows that sales on Black Friday 2021 were only 32 percent higher than the weekly average for the first week of November. In the previous year, it was a whopping 84 percent.
This apparent decline can be attributed to the fact that the offers of many online retailers are no longer limited to single shopping events on Black Friday and Cyber Monday. Instead, they are spread over a period of several weeks (Black Week, Cyber Week, etc.). In this way, consumers on average take advantage of offers over a longer period of time. The peaks on Black Friday and Cyber Monday are getting smaller, but the sales volumes are at a consistently high level throughout November.
Increasing popularity among young people
In a recently published report, the market research institute YouGov found that online shopping events such as Black Friday and Cyber Monday are becoming increasingly popular, especially among younger consumers. For Gen Z, online shopping is the preferred way of shopping. This generation focuses on exclusive products and services. In addition, they are much more spontaneous in their shopping than older consumers.
The start of the Christmas shopping season
Due to their proximity to Christmas, Black Friday, Cyber Monday and the like continue to mark the beginning of the Christmas business. Many shoppers use the promotional weeks in November to buy presents.
This survey on the purchasing intentions of German consumers in 2021 shows that a good 47 percent of respondents intend to buy something on Black Friday and/or Cyber Monday. A further 32 percent are still undecided, but not averse in principle. The willingness to buy one or more products is therefore significantly higher on these days.
Tips for more e-commerce success on Black Friday and Co.
Careful preparation of the campaign days is a prerequisite for their commercial success. Planning all measures at the last minute would therefore not be a good idea. So take enough time in advance to analyse your customers' buying behaviour and gain insights into their expectations.
Based on this, you can design a promotion strategy and derive suitable advertising measures from it. These in turn decide which channels are most suitable for communication. The load limits of your hardware also play an important role in the period of the planned promotions.
Analyse customer behaviour and expectations
In day-to-day business, a lot of customer data comes together, from which you can in turn gain information about the behaviour and expectations of your customers. But be careful: while for most customers the quality of the products is in the foreground in day-to-day business, on campaign days such as Black Friday they look more at the discount.
Nevertheless, it is easy to filter which product categories are particularly popular on the basis of day-to-day sales. Also include data from wish lists or similar features if you have integrated them into your shop.
If you have already conducted discount campaigns or similar events in previous years, you can also gain insights from the corresponding data records. Surveying your customers can also be worthwhile: Surveys on purchase intentions or products of interest lead to greater chances of success for your promotions.
Based on the demographic data of your users, you can also draw conclusions about which platforms and channels you should consider for communicating your actions.
Define target groups
First of all, you should determine which target group(s) your planned action is aimed at. Do you want to activate your existing customers and thank them for their loyalty with attractive offers? Do you want to convert prospects into new customers? Or do you want to address existing and new customers equally?
The definition of your target group is the basis for all further considerations from the offer strategy to the planning of communication measures and channels.
Determine products
After analysing your collected data, you can turn your attention to the strategy for your promotion days or weeks and select products that you would like to offer as part of your promotion(s).
Which products are particularly suitable for your planned campaign depends, of course, on your product range and the demand of your target group(s). In general, there is an increased demand for electronics, fashion and household items on Black Friday and Cyber Monday. This is what the community platform mydealz.com 2020 found out in a study.
Regardless of which industry you are in, these products are particularly well suited for discount promotions on Black Friday and Co:
Bestsellers and evergreens: What is trendy and sells well can only work well on campaign days like Black Friday.
Potential Christmas gifts: Black Friday marks the start of the pre-Christmas shopping season. From toys to socks - everything that could be considered as a Christmas gift is relevant for the promotion day.
Remainder: Still have a few slow sellers left in your warehouse? With attractive discounts and special deals, you're sure to be able to sell them off.
Develop offer strategies
Whether your campaign day is a success depends, among other things, on how well your offer strategy matches the expectations of your target group. The analysis of customer behaviour is therefore a good starting point for your strategic approach.
You have many options when it comes to designing your campaign day. If your online shop has a small assortment, for example, an overarching, fixed discount is a good idea. You can also focus on individual products or categories and discount them more heavily. In addition, you can offer three products for the price of two or give away an additional product above a certain purchase value.
The presentation of the offers is also important. For example, it makes a difference whether discounts are given as a percentage or in euros. Which works better can be found out, for example, using A/B tests.
Tailor the user experience to the campaign day
Your potential customers are not only interested when the campaign day is just around the corner. Google Trends shows that bargain hunters start researching months before Black Friday, Cyber Monday and the like in order to get their first hints of worthwhile deals.
You can use this potential by informing your shop's visitors in advance that you can also expect good offers on Black Friday, Cyber Monday and the like. Here are a few ways to draw your customers' attention to the planned campaign days early on:
Draw attention to the campaign days on the start page of your shop - for example with banners, pop-ups or a countdown!
Set up a landing page for the planned campaign and give your visitors an overview of the promotion and its duration. Pay special attention to SEO and make sure that the page ranks for relevant keywords.
Announce the first products and product categories that will be part of the campaign.
Stay transparent in your communication. Do not overwhelm your visitors with incomprehensible and complicated discounts, but communicate all relevant information clearly and understandably.
Plan advertising and communication measures
Search engines, social media, topic-related advertising platforms and price comparison sites are the extended arm of your online shop. This applies not only to day-to-day business, but especially to Black Friday, Cyber Monday and the like.
Planned campaign days can be communicated effectively and precisely on the channels that are relevant for your target group(s). Speaking of target groups: Depending on whether your offer is aimed more at existing customers or new customers, the approach is quite different.
Activating your existing customers is best done through organic social media communication, your newsletter or optimising the user experience of your shop. If you want to gain more new customers, focus on SEO, SEA and social media advertising.
You can find a selection of possible communication measures here:
Announce planned campaign days in advance via your newsletter to draw the attention of your existing customers to your offers. In addition, place a sign-up link clearly visible on the landing page of your promotion to attract further subscribers.
Use ad formats on Google, Facebook, Instagram and the like to promote your offers. Also make sure your ads have a consistent style and clear messages to stand out from the crowd of discounts and promotions.
Also plan your advertising budget carefully in advance. Around Black Friday and Cyber Monday, you can expect a higher CPC due to greater competition for ad space.
List your offers on platforms like blackfriday.de to benefit from the reach and make an even larger audience aware of your offer.
Equip the online shop for planned promotions
Campaign days like Black Friday or Cyber Monday can be the biggest stress test possible for your hosting resources. Offers, discount campaigns and large marketing campaigns can lead to a significantly higher than normal number of visitors, and with them the load on the shop.
On past campaign days, many an online shop has fallen to its knees in this way. Fortunately, such a scenario can be avoided with the right preparation.
Measure loading times and improve performance
First of all, you should check whether the settings of your shop do not impair performance. A decisive factor here is the loading time. You can test this at any time with various tools. Some of them are free of charge and can be used without creating a user account. Here you will find a selection of popular tools for measuring performance.
For PHP-based applications, profiling tools such as Tideways or New Relic APM provide information about possible bottlenecks that affect performance. We have compiled further tips on performance optimisation of web applications in a blog series of the same name.
maxcluster customers also have the option of testing the performance of their application with the help of the managed feature ShopPerformance. The tool measures over 60 different performance parameters and provides concrete recommendations for action if there is a need to optimise the settings of your application(s).
Inform hosting provider
If you have hosted your online shop on-premise, inform your hosting provider in good time about planned campaign days. This way, your hoster can react to load peaks and performance bottlenecks and adjust the scaling of your hardware resources accordingly. If you do not do this, you risk that the shop is no longer accessible for the end user if the load is too high.
We at maxcluster also accompany our customers on request before and during planned actions. In this way, we ensure that the applications remain accessible even with a high volume of visitors and that the performance is not impaired.
Conclusion
Campaign days and weeks such as Black Friday, Black Week, Cyber Monday and Co. continue to offer shop operators in Germany great sales potential. Younger target groups in particular prefer to shop online and are quickly motivated to make a purchase if attractive offers are available.
However, for the campaign to be a success, foresighted preparation and planning is required. All measures and processes must be carefully coordinated so that everything goes according to plan on the day of the event.
By the way, we have compiled further tips for more success on Black Friday, Cyber Monday and Co. in the linked blog post.
---
Published on 05.10.2022 | DR
You have questions, requests, criticism, suggestions or just want to tell us your opinion about our blog? Here you have the opportunity to contact us directly.
Send e-mail