Tips for more revenue on Black Friday & Cyber Monday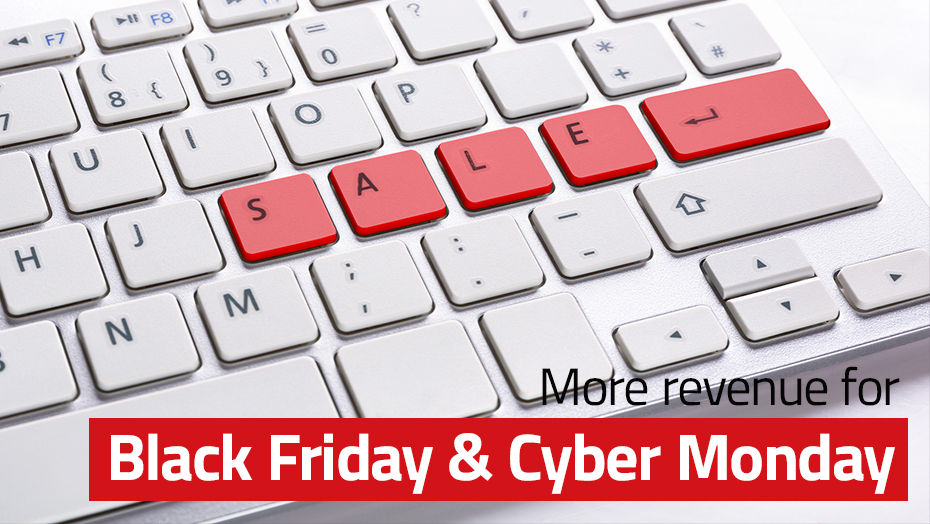 A few years ago, "Black Friday" was merely the day after Thanksgiving and thus a bridge day for many Americans, but in recent years it has become the prelude to the pre-Christmas shopping season - and not only in the USA.
What does this date mean for you as an online trader and how can you prepare for 26.11.2021?
High propensity to buy in e-commerce
Together with Cyber Monday, the Monday after the Thanksgiving weekend, these four days often see the highest retail sales. In addition, the extended weekend is an important indicator for many retailers for the coming Christmas business.
According to Adobe Analytics, Black Friday and Cyber Monday sales volumes are expected to increase by almost 20% this year compared to last year's sales, as the pandemic has further increased shoppers' focus on e-commerce in 2020. A strong online presence and strategy has therefore never been more important for retailers. And this applies not only to the traditionally strong electronics sector, but also to fashion, beauty and home & garden retailers, who should not waste any potential here.
Preparatory measures
But how do you achieve a strong online presence for Black Friday? The best way is to immediately start targeting users as they prepare for Black Friday. Prepare your campaigns and advertising materials now and plan channels - social media, SEO, SEA, email marketing... - and the corresponding budget.
According to Maike Schnell, Industry Leader Retail at Google, the business or online research for this already starts in September (source: Internet World Business 11/2020), as many consumers already start with the first research or are already inspired.
Content on website
How can you inspire customers? Offer additional content, for example:
Editorials | Stories around your products
Videos
Surveys
Checklists
Gift Guide
Also consider whether it would make sense to have your own landing page where you can collect all the information about the sale weekend.
Social Media
Turn your social media channels into an extension of your shop. Offer additional information, promo codes or directly integrate a shopping function for the offered items. You can also create a social promotion calendar to increase activity on your social media channels in advance. And remember to use hashtags (#BlackFriday, #BlackFriday2020, #CyberMonday or #CyberMonday2020).
Newsletter
If you regularly send out a newsletter, don't forget to inform your newsletter subscribers in good time about Black Friday and your associated activities. Consider offering these loyal customers something extra if necessary: a promo code or perhaps a small gift with every order.
Mobile Shopping
Optimise the mobile shopping experience for bargain hunters, because for them "mobile first" applies more than ever during Black Friday. Make sure your application is easy to use, optimise the speed of your site, allow different payment options and, if possible, multiple shipping providers in the check-out.
SEO | SEA
Jetzt ist die beste Zeit, Ihre Ads zu testen, damit Sie nur die während des Black Fridays ausspielen, die auch die gewünschten Resultate erzielen. Spielen Sie mit verschiedenen Formaten und auf den unterschiedlichen Kanälen und werten Sie die Ergebnisse mit Google Analytics oder einem vergleichbaren Tool aus.
When researching and analysing, also take into account that keywords can change during the shopping days. Therefore, try to determine the search intentions of your customers and adapt your website and your ads accordingly.
Also think about retargeting campaigns to keep potentially "valuable" customers interested.
Customer service
Is your customer service ready for the weeks ahead? Do you need to increase the number of staff in this area if necessary? Perhaps a chatbot can also help answer some of the queries. You should plan enough time for the installation of such a chatbot so that it really makes the work easier for you and your team.
Furthermore…
Register on portals such as blackfriday.de and benefit from prospective customers who you may not yet have approached via your advertisements and other promotional activities.
Offer a "wish list": customers who browse your pages in advance can deposit their items there and prepare themselves. And you can also see in advance which items are particularly popular and possibly think about further promotions.
And optimise your check-out: Do you offer all payment and shipping methods? Do you have a one-page checkout? Make it as easy as possible for your customers to benefit from your Black Friday bargains.
Boost sales
On Black Friday and Cyber Monday, customers and potential customers are looking for good deals to fulfil a long-cherished shopping wish or to make provisions for Christmas. Of course, non-bargain items are also packed into the shopping trolley, but the majority of purchases usually stem from price reductions or other promotions. Feel free to be creative in offering customers incentives to buy. We have listed a few ideas below:
Promo-Ideen
Discounts
Discounts are easy for the customer to understand and provide a good incentive. Show what the customer actually saves on the purchase by converting the discount. Consider whether you prefer to discount individual products, or perhaps a whole range. Or give a discount on a second item when it is purchased. You can also let the discounts be won in advance with a spin on the wheel of fortune.
Free items from minimum purchase value
Offer your customer a free item of value if they order from you above a certain purchase value. This can be a generic item or something directly related to the item ordered, such as a tray and sleeve or fridge and food storage containers.
Buy three, pay two
The classic, especially in the clothing trade: order 3 pairs of shoes, the cheapest pair is free. Of course, the scheme can also be applied to many other areas.
Bundles
Offer attractive bundles at a special price. They are particularly interesting for customers if they are already nicely wrapped - perfect as a Christmas gift.
Hourly deals
Besides price reductions, you can also use other ideas to generate attention and boost your sales:
More ideas
Neben Preisreduzierungen können Sie auch mit anderen Ideen Aufmerksamkeit erzeugen und Ihre Umsätze ankurbeln:
Pre-Black Friday
Don't wait until Black Friday, but simply offer your special bargains earlier. If necessary, you can reach customers early and prevent comparability.
Sneak Peak
Offer a small preview of the upcoming bargains, combined for example with a coupon code for entry in your mailing list.
Black Friday-Flash sale
Increase the desire of your target group. Since the customer does not know which products will be reduced until the very end, this type of sale contains a great element of surprise and arouses curiosity. Hints about the items in advance help to keep the customer's curiosity alive.
Pop-up notifications | Exit intent pop-ups
Many customers use Black Friday and Cyber Monday to buy gifts for Christmas. Remind them with a (one-off) pop-up, such as: "Use the sale for gifts - Christmas is coming soon" and maybe even offer them an additional attractive offer.
No shipping costs
If a purchase usually incurs shipping costs, consider whether you can waive them on these two days. By the way, the same also applies to free returns.Do you have a Magento shop and want to be ideally prepared for Black Friday? Here are a few tips:
Tips for Magento shops
Do you have a Magento shop and want to be ideally prepared for Black Friday? Here are a few tips:
Use the cross-sell or upsell panel to promote your items.
With just a few clicks, you can start a storefront to the leading social networks with Magento Social. The seamless integration automatically ensures that the product entries in your social profiles match your Magento product catalogue.
In the Magento Marketplace you can find many extensions and add-ons that can help you create the ideal Black Friday user experience, such as (FYI: these are just ideas and not affiliate links): Spin to Win, Gift Card Manager and Abandoned Cart.
Tips for Shopware shops
Use the shopping or experience world in your Shopware shop to prepare your customers for the Black Friday phase with special content. We have put together some ideas for this in the text above.
Extensions, plugins and features will help you integrate your Black Friday promotions into your operations as straightforwardly as possible (again, please note: these are ideas only and not affiliate links):
Technical preparation
Have you planned your advertising measures and prepared the shop visually for Black Friday and Cyber Monday?
Please also think about the technology, because your customers expect a smooth performance of your online shop when shopping. And if your advertising measures have the desired effect, you can expect a significant increase in your website visitors on these days.
What should you therefore pay attention to or what should you be prepared for in order to be able to intervene immediately if the worst comes to the worst?
Prices | Shopping cart | Checkout
Important catalogue updates at the last moment and subsequent lack of display of relevant prices
Voucher codes and discount rules are not set up correctly
Add to shopping cart" button does not work
Defective or faulty "cash register
Payment systems unable to cope with the increased load
Performance
During Black Friday and Cyber Monday you should expect a high server load. This is due to the particular behaviour of customers on these days: Under normal circumstances, most customers browse cached category pages. During Black Friday and Cyber Monday, on the other hand, they are more likely to add items to their shopping cart, access the shopping cart view and proceed to checkout. None of these pages are cached, however, so a server experiences an exponential increase in load. This can lead to delays of 20-40 seconds before an item is added to the shopping cart, time-outs or even a complete server failure. You should therefore take special care to ensure that your servers are well tuned and easily scalable.
Also check the third-party content embedded in your online shop and the performance of your APIs.
Conclusion
This year, Black Friday and Cyber Monday offer online retailers more opportunities than ever to kick off the pre-Christmas season with strong sales. Well prepared, shop operators can face the turbulent days quite relaxed.
Customers of maxcluster can take advantage of the "Black Friday Check" in preparation, in which all service parameters and hardware resources are checked free of charge. If individual adjustments are necessary so that the servers run smoothly and the loading times remain stable, we will then make these in consultation with the customer.
Do you have any questions about our products or need support in optimising the performance of your server? We look forward to receiving your message by e-mail at beratung@maxcluster.de or call us at 05251/ 41 41 30.
---
Last updated on 20.10.2021 | NM
You have questions, requests, criticism, suggestions or just want to tell us your opinion about our blog? Here you have the opportunity to contact us directly.
Send e-mail