Magento 1 EOL - Interview with OpenMage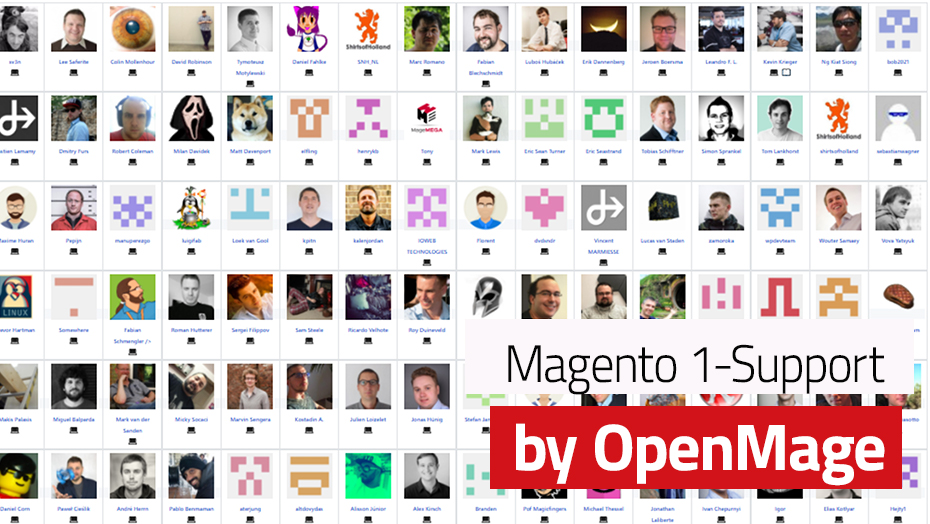 It is now a few weeks after the official end of support for Magento 1 and for most online shop operators little or nothing has changed since then. Nevertheless, many people are pointing out that there are many risks associated with the Magento 1 EOL.
We discussed what these are and how one could react to them with Daniel Fahlke, founding member of OpenMage.
What is OpenMage?
On the one hand, OpenMage is a so-called fork of Magento 1, i.e. we have taken the code from Magento 1 and develop it further accordingly by adding our own patches and further developments to this code.
But OpenMage is not just the code itself, it also refers to a group of developers who have come together under this name to continue the project. The maintainer team consists of seven people - developers in agencies, but also freelancers and people who work directly for the shops. In addition, there is a large group of volunteers who contribute to the project in many different ways. For example, they help us with the website or complete the documentation. The maintainers set the direction of the project, but are primarily there not to stand in the way of the "helpers" and to guide them in a way that is most useful for everyone.
What they all have in common is that they have or had problems with Magento 1 for a long time, in the sense that there were already problems with the version that have not yet been solved by Magento. For this reason, this project has been around longer than most people know, namely since 2014, originally with the aim of collecting improvements and bug fixes that had already been created and published by the community, but never taken up and solved by Magento 1.
The Magento 1 EOL then brought us even more into the awareness of developers and shop operators. Of course, it helps that we are already very established and our expertise is recognised. We are therefore not only recommended very often, but also quickly "found" when browsing for Magento 1 topics.
Of course, the EOL has also made the work much more exciting for us, because it gives us much more freedom. Before, we were very careful to only accept changes that we could easily integrate into the existing code or for which we could offer Magento-compatible patches. Since Adobe no longer provides support, we have become noticeably more creative. By the way, we also cleaned up the code first - no structural changes, but the code itself. It now meets today's standards and it is much easier to work with and read.
What exactly do you offer?
Our primary task is still to provide a central home for all patches provided by the community. To structure this a little better, we have introduced processes that also ensure certain quality standards.
But beyond that, we also continue to develop. For example, we make sure that new PHP versions are supported, or also databases in the different versions - in other words, everything that you already use Magento 1 with anyway.
In the long term, however, we have other things in mind, such as extensions to the API and the expansion of security standards through elements such as 2-factor authentication and other things.
What are the requirements for using OpenMage?
The same requirements apply as for Magento 1. However, the systems should be as up-to-date as possible, for example in terms of PHP versions.
What advantage does OpenMage offer?
A big advantage of OpenMage is that there is no migration effort in the true sense, as we are very careful to keep the code base largely the same. The alternative would be to switch to another platform, which would involve significantly more effort.
In addition, we pay attention to backwards convertibility, i.e. we will have few changes in the next few years that require active intervention, as is currently still often the case with other systems and especially with Magento 2.
For developers who have been using the system for a long time, there are additional advantages, because it is older in the sense that a lot of documentation and problem solutions already exist.
In addition, the hosting effort is usually lower than for other systems, as there are fewer "mandatory" add-ons.
Is Magento 1 still interesting for developers?
For many developers, it is true that they no longer want to deal with "old stuff", but only with the latest things. This has a lot to do with the fact that they are only given the opportunity by their employer to deal with software and technology in more detail when it is also used by the employer. For this reason, people naturally want to work with the latest technology. We can't offer that with OpenMage.
But the commitment also depends on the area in which you work, whether in the frontend or backend area. Especially in the frontend, Magento 1 offers the possibility to deal with the latest technologies through the topic of PWA, while in the backend you can continue to rely on a very stable system that has been tested for years.
What is special about Magento 1 and are there alternatives?
From our point of view, the special thing about Magento 1 is certainly that it is a proven shop system that has worked well for years. And because of the time it has been on the market, many problems have simply already been solved that have not even appeared as such with other shop systems.
Magento 2 is certainly an alternative and has its raison d'être. However, if you look at the marketing and the development so far, it becomes clear that it is aimed particularly at large, enterprise-heavy customers. And for these, the system is definitely a very, very good choice and probably better suited than any other shop system.
The problem is that many customers who have previously used Magento 1 do not fall into this category. They also often do not have the financial means to migrate their shops. Especially against the background that the costs of running a shop are currently rising sharply, as more and more additional components are needed, such as Elasticsearch or (presumably) RabbitMQ in the long term.
In addition, Adobe relies heavily on its own PWA frontend, so it may well happen that this will also have to run accordingly in the future.
Are PWAs a good alternative to classic shop systems?
As we have already mentioned, developers like to work on and with new things. And this is of course one of the most important points covered by Progressive Web Apps, as there is a corresponding PWA for every front-end technology, so developers can really always work with the very latest technology.
And especially when it comes to "agile working", this makes a lot of things easier because front-end and back-end can be processed separately and at different speeds. This is particularly useful for larger shops or teams.
However, many PWAs are not yet fully developed - at least according to my observations. However, if you know exactly what you want to do beforehand, you can usually map it out quite well with a PWA.
If you have a sufficiently large team and also the time to work on it continuously, then a PWA is definitely a good choice. On the other hand, I would still advise companies that have a low-maintenance system against it, because the whole topic is still very young and there is a lot of movement. I would recommend that these companies first test out what their customers actually need and then, if necessary, restructure or adapt or migrate the system accordingly.
What are the risks for Magento 1 shop owners?
In the wake of the Magento 1 EOL, many developers and retailers are for the first time intensively dealing with the topic of security and maintenance of their online shops. Until now, it was easy to pass this topic on to Adobe, especially if you were a partner or enterprise customer. In a first step, Magento was often blamed for the problems and was supposed to provide solutions - and as long as you did what Adobe suggested, you were on the safe side.
Of course, this has become more difficult now, but we at OpenMage try to minimise the risks for these shop operators through our work, or to do our part to minimise the risks by offering a source where reliable patches are stored.
However, risks are of course present, although some have already been put into perspective a little, for example the problem with the payment providers who wrote to many customers in the run-up to the EOL and threatened to terminate if the shops were not migrated immediately. Many of these providers have now backed down a little, avoiding the word "shutdown" and working out acceptable alternatives with customers.
Do you offer any other support to clients?
We are happy to help customers integrate any changes they make with us into OpenMage. Of course, this also makes it easier to switch to another system in the long term, but we do not support retailers in migrating to another shop system per se.
Magento has been end of life for almost two months now. What has changed since then?
Everything has normalised a bit. Every now and then, of course, people still get in touch who are worried about the payment data and we still receive many enquiries with general questions about the EOL. And of course our project is getting more attention from people who have only just started to deal with the issue and who now actually want to switch.
What are your next steps?
Personally, I have a five-year plan in mind for the OpenMage project, but of course we are constantly looking at what is happening in the community and where the users' interests are.
We have already started to share two different versions: one is version 19, which is still completely compatible with Magento 1, but in parallel we are already working on version 20, in which we allow ourselves more freedom and definitely also introduce some things that are partially or not at all compatible with the original Magento.
In terms of next steps, support for PHP 8.0 is at the top of the list. We are also relatively far along with automated testing, which we have developed. And then there is the extension of the API and possibly a frontend that is less JavaScript-heavy.
All developments and our planning can be followed on our website at any time and we are also always open to further ideas and support.
---
The person
Daniel Fahlke is a Magento developer and started his career in a Magento agency. He has previously worked both as a freelancer and as an employee at a shop operator. After two years as a developer at a start-up that built social networks for scientists, he is now back at an agency. At OpenMage, he is responsible for community coordination and publicity.
---
Published on 17.09.2020 | NM
You have questions, requests, criticism, suggestions or just want to tell us your opinion about our blog? Here you have the opportunity to contact us directly.
Send e-mail