Review – Shopware Community Day 2022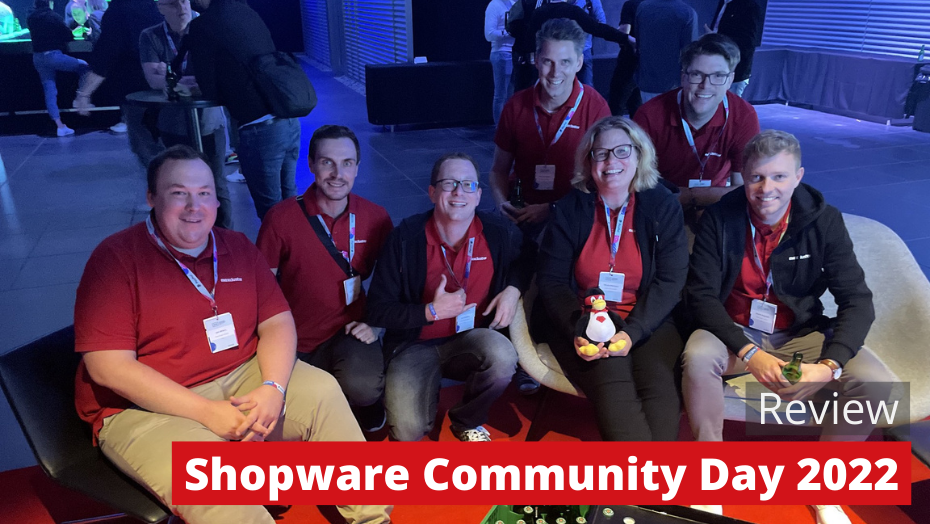 After the SCD 2020 and 2021 took place exclusively online, this year the community could (finally) meet again live in Ahaus. We were there with a team of seven. All news, trends and highlights of the SCD22 can be found here in our review!
1,000 participants were present on 25.05.2022 at the Tobit Campus, more than 5,000 others were connected online and were able to follow the event remotely thanks to the sophisticated livestream concept. For maxcluster, the SCD is already the second Shopware-related event that we have attended live in 2022 after the Shopware Community UnConference, which took place in Cologne in April.
A reunion in Ahaus
In 2022, the Shopware Community Day returned to Ahaus after two years online and two more years at the Landschaftspark Duisburg-Nord. The event thus also returns to its roots to a certain extent, as the SCD took place in Ahaus every year until 2017.
Although we from maxcluster are also real SCD veterans and have already been guests at some of the past events, 2022 was a premiere for us: For the first time, we were there not only as participants, but also as Premium Partner!
News from Shopware
It is a tradition at SCD that the opening key note is given by one of the two Shopware founders and managing directors. This year, Sebastian Hamann opened SCD22 on the Inspiration Stage and had some exciting news to share.
He was supported by Daniel Nögel, Director Product Engineering of Shopware AG, who illustrated the open commerce concept and the associated flexibility of the Shopware Core using popular features such as the Rule Builder or the Pricing Engine. Moritz Naczenski, Director Product Discovery, also had an active part in the key note and presented the new cloud approach for Shopware's enterprise solution.
Shopware goes USA
However, Sebastian Hamann announced the biggest news right at the start: Shopware is opening a new location in New York and is increasingly focusing on building up a global workforce. After the announcement of the partnership with PayPal in February 2022, these are the next big steps towards internationalisation.
Guided Shopping and Sustainability
Successful Shopware customers were also mentioned in the context of the key note. The Wortmann Group, for example, is the first Shopware customer to use the Shopware 6 module "Guided Shopping" to support customer service and sales in the B2B sector and to offer customers new added value. With this feature, innovative shopping experiences can be natively integrated into an existing e-commerce system landscape.
KoRo, with its online shop focused on the sale of non-perishable food products, was also named as an outstanding company in the area of sustainability. With its strategic focus on D2C, KoRo is now represented in 16 different countries.
Program and Highlights
Three stages, over 40 different speakers and more than 30 lectures, talks and panels: SCD22 had a full timetable with top-class guests and exciting topics, which were presented on the corresponding stage depending on the focus. Following this pattern, we also report on our highlights of the programme in this review:
Inspiration Stage
The Inspiration Stage, which also functioned as the main stage of the event, hosted cross-thematic presentations and panels. Directly after the welcome, the premiere of Ben Marks' new talk show format began here.
In the "Open Commerce Talk", people from the Shopware community have their say. In this way, Shopware and other interested parties can get to know the perspectives of tech partners, shop operators and agencies and take away useful impulses. In the opening session, Rico Neitzel and Carmen Bremen from Paddox GmbH were guests and reported on the new safefive initiative. This starts with the official end of support for Shopware 5 in August 2024 and enables operators of online shops based on Shopware 5 to continue to operate their shop system securely. Borys Skraba from Shopware United also spoke about the latest community trends and how Shopware United can support the organisation of independent community events.
The spotlight interview with Piran Asci from KoRo and Samii Selant from Hertha BSC, moderated by Frank Puscher, was also a very dynamic and interesting format. Here, the focus was on the positioning of two "love brands" that appear very different in their business fields, their history and their target groups, but nevertheless have many things in common. Factors such as sustainability and the creation of new, innovative customer experiences, for example in the form of personalisable products, play a major role in both companies.
Top speakers
The speaker highlights around NBA star Dirk Nowitzki, darts pro Fallon Sherrock, futurologist Magnus Lindkvist and several more provided fascinating views beyond the e-commerce horizon.
Nowitzki, who was live from Dallas, reported on his sporting successes as well as his attitude to the topics of commerce, popularity and the work of his two foundations. Sherrock, on the other hand, gave darts coaching live on stage to presenter Claire Oelkers and talked about her career and her assertiveness in a male-dominated sports discipline.
Experience Stage
The Experience Stage was all about benefiting from the knowledge and visions of successful entrepreneurs, experiencing innovative business ideas and success stories and learning from them.
What the future of e-commerce could look like was impressively demonstrated by rooom CEO Hans Elstner in his presentation on virtual commerce. With vivid examples based on AR, VR and 3D technologies, he showed what is already possible today with digital showrooms and 3D configurations.
The fact that Shopware PWA is also a viable solution for multi-brand companies with an omnichannel strategy was illustrated by Lukasz Rybczonek from the Avenir Medical Group and Kamil Arcisz from X-ONE, who was responsible for the technical implementation of the project. The highlight of the presentation was that glasses from the Avenir brand Family Optic can even be measured virtually.
Tech Stage
As their name suggests, participants were able to dive deep into the world of code in the formats on the Tech Stage. New IT innovations, behind-the-scenes insights from Shopware and best practices from experienced developers formed the programme of this stage.
Filip Rakowski from Vue Storefront had numerous tips on optimising the performance of Shopware frontends in shop in his presentation "Everything you need to know about Web Performance". The spectrum ranged from request minimisation to HTTP/2 and code splitting. The latter method is similar to lazy loading: the application code is split and only executed when this becomes necessary due to user actions. The measurement of loading times was also an essential part of the lecture.
In his lecture, which was structured like a kind of "fuck up", Stephan Pohl from KoRo talked about how to avoid update problems with customised storefront themes. It was all about updates and how to prepare them correctly, what to look out for and what potential pitfalls lurk. The learnings and methods presented included, for example, creating backups and browser testing, all true to the motto "try before buy".
In her session, tech blogger Saskia Bader combined the technical aspects of online shops with the social aspects. She explored the central question of why accessibility is also an important topic in online retail and how retailers and developers can specifically improve the user experience of an online shop, also with regard to visitors with disabilities.
The entertainment factor was also not neglected on the tech stage. In a family duel, Team Shopware Community competed against Team Shopware. Moderator Niklas Dzösch asked various questions about open source, programming languages or dev mascots, which the teams had to answer with appropriate terms.
maxcluster at the SCD22
As a premium sponsor, we were not only represented at the SCD22 as a strategic partner of Shopware, but also looked after a small lounge area not far from the Inspiration Stage. Throughout the day, we had interesting conversations with old community members and customers, but also made many new contacts and held a competition.
Among other things, part of our lounge concept were the first demos of our new Partner Portal and our soon to be released performance tool ShopPerformance, which can carry out extensive performance measurements of Shopware online shops with just one click.
We are still pleased about the lively interest we received at SCD22 with regard to these new features. Our Partner Manager Jan Ahlers was able to hold some promising talks and even convince the first companies to participate in our partner programme.
Conclusion
The Shopware Community Day 2022 was in many respects a kind of symbiosis of local ties and a departure into new dimensions. On the one hand, the SCD 2022 returned to its roots in Ahaus and took place as a hybrid event for the first time in two years; on the other hand, Shopware is consistently pushing ahead with its own internationalisation.
The fact that the community was exactly waiting to meet again in person on site and exchange ideas could already be felt and seen in the first moments after our arrival at the Tobit Campus. But even remotely, those interested could follow the events on all three stages free of charge via livestream and received a care package by post to coincide with the start.
The varied programme made it possible to further educate oneself on different levels, to be inspired and to look beyond one's own nose. It is fun and stimulating to be part of such an event as an event partner and to experience live the bond between the community and Shopware as an e-commerce platform based on open source.
We are already looking forward to the continuation next year!
---
Published on 02.06.2022 | DR
You have questions, requests, criticism, suggestions or just want to tell us your opinion about our blog? Here you have the opportunity to contact us directly.
Send e-mail