Review – Shopware Community UnConf 2022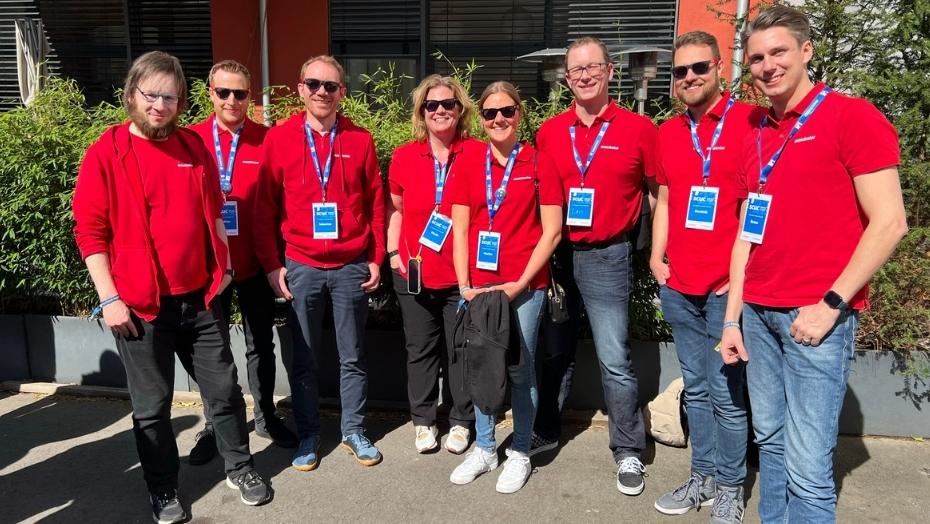 In over ten years of maxcluster, we have not only gotten to know the UnConference event format, but also come to love it. Our anticipation was all the greater after the news that there will be a Shopware Community UnConference for the first time in 2022. We were there as one of the main sponsors!
On Friday, 8 April 2022, we loaded up two cars with suitcases, bags and two boxes full of maxcluster penguins and drove with eight motivated colleagues to the first Shopware Community UnConference (SCUC for short) in Cologne.
After a break of more than two years due to the pandemic, our arrival at the pre-party in the bar Alte Feuerwache felt like a long-awaited reunion with the family. Many old but also new faces from the community, hugs, handshakes and lively conversations marked this evening.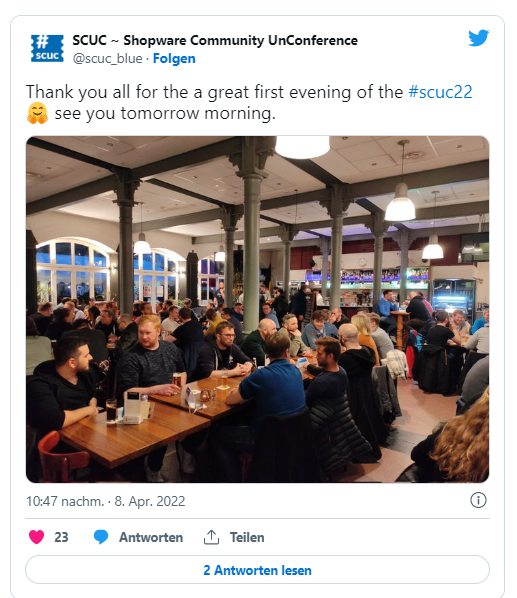 It was the same on the morning of the following day, the first day of the SCUC event. After arriving at Tor 28, we were warmly welcomed by the organising team, consisting of Rico, Carmen, Tobias, Claudia and Fabian from FireGento e.V.. Although Fabian could not be there due to illness, he was at least digitally present via Zoom and Twitter. In this way, he was even able to moderate the opening session.
And for those of you who recognise the names of the organisers: The location, Tor28, should also be familiar to participants of previous MageUnConferences. 100 participants from the Shopware community met in Cologne over the two days and were able to discuss the latest trends, tools and developments in the Shopware cosmos.
Numerous Shopware employees were also on hand to provide insights into upcoming innovations and to collect feedback and wishes from shop operators and agencies.
Topics and sessions
In the usual UnConf manner, there was no set programme at the SCUC. Instead, topics and interests were collected spontaneously at the beginning of both days of the event. Anyone who wanted to contribute or learn about a particular topic could simply write a suggestion on a piece of paper and pin it to the pinboard.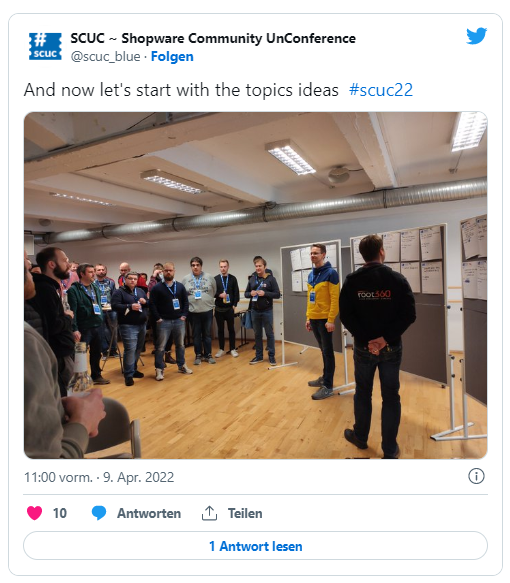 Many of the topics were based on Shopware, in line with the focus of the event. But it is also part of the character of an UnConf that traditionally off-topic sessions are also offered. In this case, for example, there was route planning for flights (with real aircraft), presenting like a boss or 3D painting.
With the help of stickers, the participants could then mark which topics they found particularly interesting. In this way, the favourite topics were identified and assigned to one of the three session rooms "Kiepenkerl", "Swaggy" or "100 Mio".
The individual sessions were very different. While some participants prepared presentations, in other sessions circles of chairs were formed to promote an open exchange.
Deep Dive for developers
In the more technically oriented presentations and discussions, experiences were exchanged, problems and approaches to solving them were highlighted and best practices were presented.
Niklas from Mothership, for example, presented a session on Shopware's headless and API-first approach. He reported on his experiences with headless projects based on Shopware. A discussion unfolded around the implementation of Progressive Web Apps, the Vue.js web framework and the advantages and uncertainties that these new technologies (still) bring with them in relation to Shopware. If you would like to take a closer look at the headless approach, you can find more details in the new blog article by Mothership.
In the talk on the topic of content management with the Shopware CMS, there was intensive debate about how agency customers use it for themselves, what problems arise and what new features or adjustments would be desirable there.
Those who wanted to learn more about the new Admin Extension SDK for Shopware 6 received all the information they needed to know first-hand in the session of the same name. This is an NPM library that contains numerous functions for communicating with the administration or extending the user interface. By the way, further information can also be found here!
Ideas for the Shopware Community
There were also sessions about the Shopware community. For example, there was discussion about how the community can be strengthened in a more targeted way to promote (international) growth. Similarities and differences between the German and international communities were also examined more closely in order to find impulses and strategies for more comprehensive networking and an ideal welcoming culture.
An eye on current trends
The topic of Shopware performance was addressed in three sessions, each with a different focus. Those who always want to be up to date in e-commerce also take a look to the left and right. The use of accompanying software was also addressed, for example in the sessions "Load Testing of Shopware stores with locust.io" or "Introduction to Akeneo".
The social programme
Of course, a UnConf is not only about the sessions. At its core, it is about creating general opportunities for getting to know each other and networking. Since the sun also showed up from time to time, the courtyard in front of the location could also be used for lively exchanges.
Entertainment
Inside the location, there were numerous gimmicks that provided entertainment. For example, there was a foosball table, an air hockey table and a button machine that made it quick and easy to produce small buttons in SCUC style. The latter in particular was very popular with our colleagues. And whether octopuses, cats or (maxcluster) penguins: plush giveaways were also plentiful at the SCUC.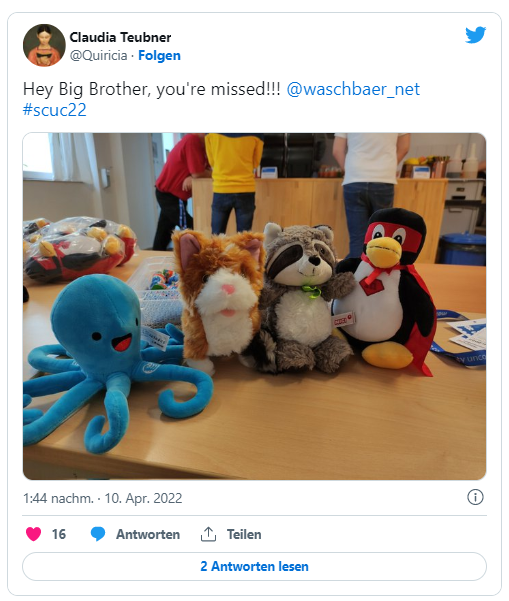 After the first official part in Tor 28, the after-show party continued on Saturday at 8 pm in the "Wohngemeinschaft". This event location in the hostel ambience of the 70s with its colourful wallpaper and furniture invited people to end the day together - whether with a beer, water or cola after work.
Food and drink
Those who know the organising team know that physical well-being is always taken care of. True to the event motto "Eat, talk, learn - together", no one at SCUC22 had to go hungry or thirsty. Fresh smoothies or delicious coffee from the portafilter machine were prepared on request right at the entrance. And besides a rich breakfast and lunch buffet, there was always something sweet in between.
Conclusion
Anyone who has attended a UnConference knows the characteristics of this format. The focus is on communication with other representatives from the respective community. At the SCUC, we noticed how much the participants missed the direct and personal exchange on site. Our team had many enriching conversations, made new contacts and gained interesting insights into industry-relevant topics.
Last but not least: A huge thank you goes to Carmen, Rico, Fabian, Claudia and Tobias from FireGento e.V.! Thank you for organising this event even under difficult conditions (keyword: pandemic)! The well thought-out hygiene concept ensured the greatest possible safety and a relaxed atmosphere among the participants.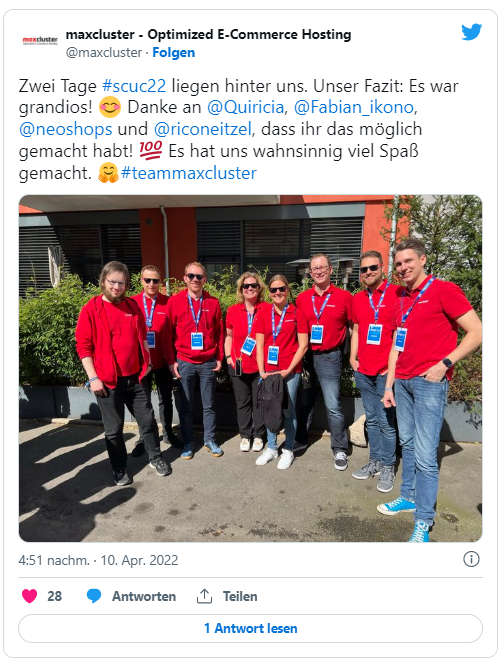 From our point of view, it was a complete success and we are glad that we were able to support the organising team as a sponsor. We will definitely be back next year and are already looking forward to SCUC23!
P.S.: Our video review of SCUC22 will follow shortly!
---
Published on 14.04.2022 | DR
You have questions, requests, criticism, suggestions or just want to tell us your opinion about our blog? Here you have the opportunity to contact us directly.
Send e-mail