Customers
More than 500 enthusiastic customers since 2011
7thSENSE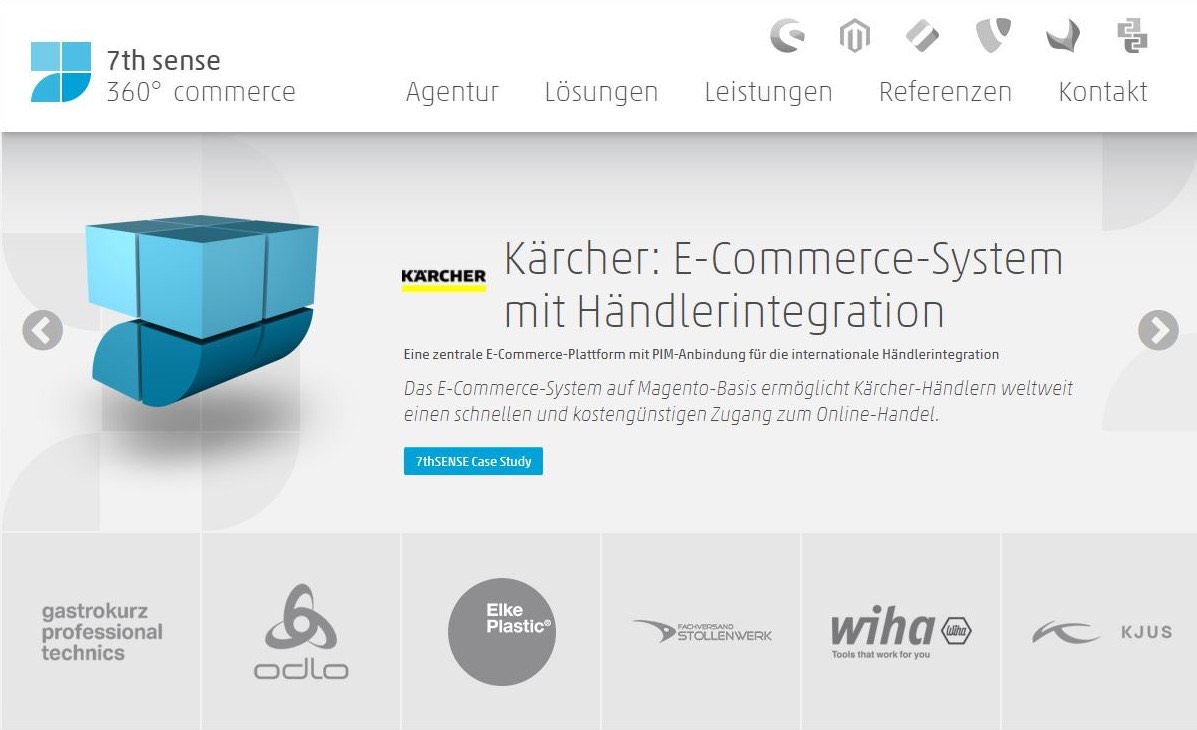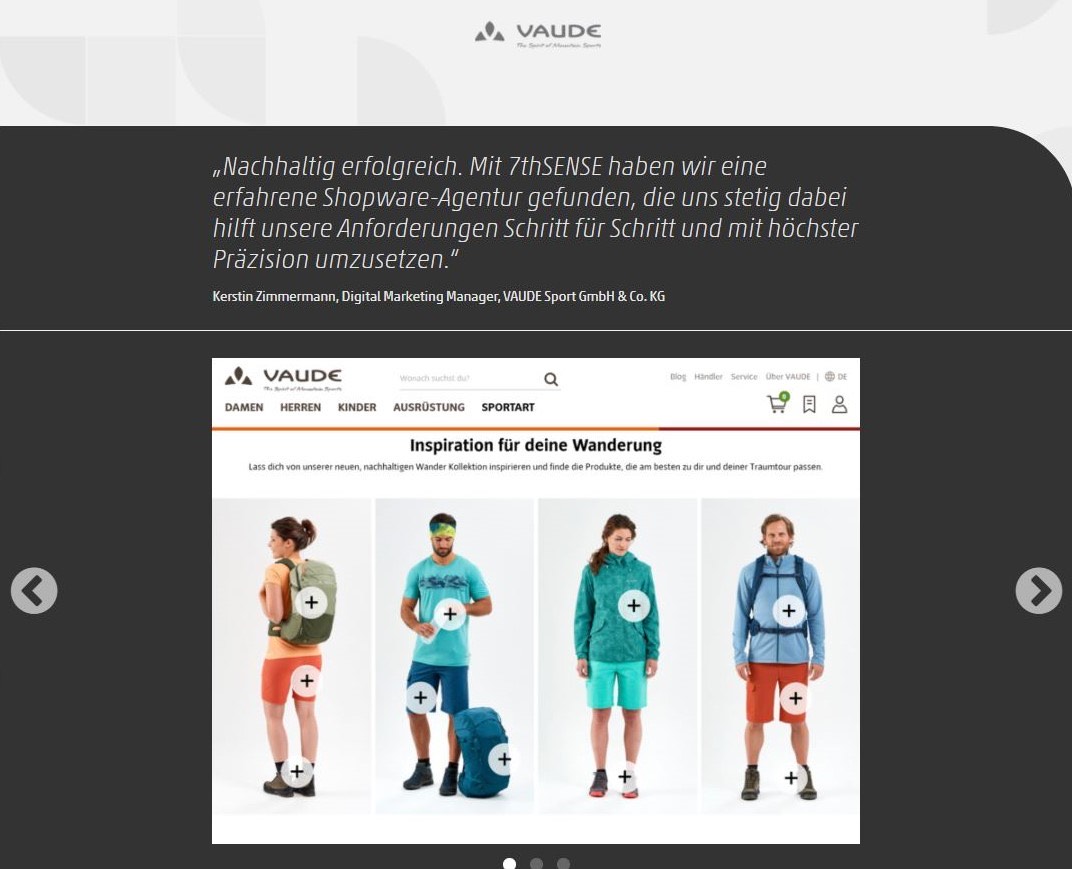 The e-commerce agency 7thSENSE has specialized in the creation and implementation of e-commerce solutions for over ten years. Its customers include well-known companies such as Kärcher, WMF and VAUDE.
For these and many other customers, the agency from Reutlingen develops user-friendly and technically sophisticated online stores. The 40 employees focus on "360° in e-commerce". This concept includes the knowledge of different store systems, B2B/B2C/D2C, screen design, user experience and all related highly complex topics.
7thSENSE offers customers and interested parties a system audit on request, in order to uncover weak points and, if necessary, potential for improvement. The agency uses comprehensive checklists to examine the existing system for code quality, implementation, programming, data storage, data origin, interfaces, but also on-page SEO and usability. After the check, the customer receives results with recommendations for action.
More information about 7thSENSE in our interview and on their homepage.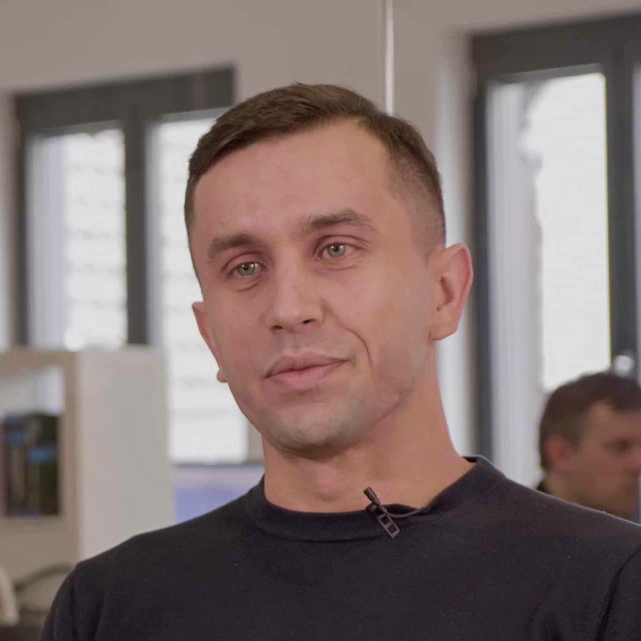 For us, maxcluster's managed hosting makes all the difference! It is really managed, because there is always someone I can call and ask. And we also appreciate the clearly arranged Managed Center, with the overviews of the individual clusters, the respective performance, etc. It helps a lot to keep track of the individual clusters. It helps a lot to keep track of our managed stores. We also appreciate the reliability and predictability, such as the Central Update Day on the first Tuesday of every month. We always know when something is going to happen, which gives us a good basis for planning. And the fact that the customer's interests are paramount can also be seen in things like the replacement of hardware in the middle of the night, so that the customer's store is affected as little as possible.
Blasius Damaschek
Managing Director 7thSENSE
In the online store of DEINE TÜR, customers can access the largest range of doors in the German-speaking world.In addition to countless configuration options for exterior and interior doors, DEINE TÜR also offers an extensive range of accessories and, beyond that, brand-name floor coverings and tiles. From the Leipzig location, the employees take care of the trading platform and the worldwide shipping of the products.

The requirements DEINE TÜR had for managed hosting were not supported by the company's previous hoster. In addition, the page loading time was not satisfactory in some cases. To achieve the desired hosting level, DEINE TÜR would have had to hire a full-time admin.

Due to existing experience with maxcluster, the company's management decided to have its online store hosted by maxcluster.


"The hosting here is reliable and everything simply works. We have competent contacts at our side at all times, so we can concentrate on our core business", Tobias Hille, Head of Backend at DEINE TÜR, explains the switch.

"And in the - rarely occurring - case of emergency, the fast response time and the (proactive) tips on possible improvements are convincing", adds Tino Mewes, Head of Frontend at DEINE TÜR.

maxcluster offers fully customizable hosting combined with the comfort of managed hosting. The competent contact persons at every support level always keep an eye on the big picture and proactively give advice on improvement possibilities.

Tobias Hille, Head of Backend at DEINE TÜR

We can approach support at any time with requirements from a developer's point of view and are always well met. And if there is no contact person available on our side, the support acts independently and in our interest and finds the best solution.

Tino Mewes, Head of Frontend at DEINE TÜR

Garten-und-Freizeit.de is the leading German specialist retailer for high-quality garden and leisure furniture. The portfolio of the online store currently includes more than 15,000 different products from tables, chairs or benches to lounge furniture, sunbeds and pavilions.

In addition to detailed information on the individual articles, Garten-und-Freizeit.de also offers various general information and advice services. The company was founded in 2005 by the current managing director Jürgen Schuster. In addition to its Internet presence, there is a large sales exhibition at the company headquarters in Genderkingen, Swabia. Garten-und-Freizeit.de s premium partner of considerable mark manufacturers such as Kettler, Star or Weber.

Our business and therefore the number of our store users is - depending on season and weather - very fluctuating. We are happy to have found a hosting partner in maxcluster that allows very transparent monitoring and easy scaling of resources. The communication is very pleasant, fast and solution-oriented. In addition, we definitely wanted to go to a hoster who knows Magento, so that our developers also have competent contacts here.

Martin Wenger, Authorized Signatory

The kartenmacherei GmbH has two locations in Seefeld/Munich and Hamburg. It was founded in 2010 and has since become one of the leading providers of personalized cards throughout Europe with over 40 employees. The assortment of this online store includes cards for births and weddings, for birthdays, celebrations and personal items, as well as extras such as envelopes, address labels and inserts.

Since the foundation of kartenmacherei in 2010, we have established ourselves as one of the leading providers of personalizable greeting cards in Europe. As a young and dedicated team, it is of great importance for us to have a competent and fexible hosting partner with a focus on Magento at our side, who also works with the latest technologies. The cooperation with maxcluster is so uncomplicated, especially because it is not a dusty corporation, but a dynamic team with a lot of motivation and profound expertise.

Steffen Behn, Head of Technical Development

meineLinse GmbH is one of the leading lens and vision aid mail order companies in Germany. With over ten years of experience and an extensive product range, this company has already won over 100,000 customers.

We have been operating several fail-safe clusters since the end of 2010. This technology offers us a stability and reliability that a normal server cannot provide. In addition, the high performance of this solution has convinced us.

Andreas Korsus, Founder

At RADBAG you can find funny gifts for Christmas, romantic gifts for Valentine's Day or for weddings, wacky birthday gifts as well as cult and funny gift ideas for many other occasions. Whether cool gift ideas for men, women or children - here "everyone finds something. The RADBAG team is constantly searching the world for smart and quirky lifestyle accessories for the home, for the office, for outdoor activities - and of course for technical gadgets for geeks who don't want to grow up.

RADBAG sells crazy gadgets and gifts in five European markets. In 2013, we faced a major challenge in that our Magento Enterprise installation needed to process several hundred thousand unique visitors and 3,000 orders per day at peak - and without sacrificing performance. We needed a hosting provider that could proactively identify performance issues with us and work with our developers to resolve them. The flexible web cluster solution, the fast support for our developers and the extensive Varnish know-how finally convinced us that we are in the right hands with maxcluster.

Philipp Schindler, Managing Director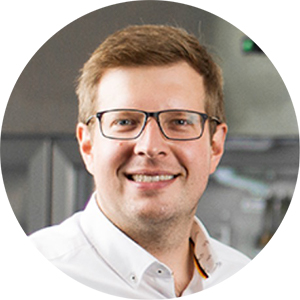 As one of the fastest growing online stores in Germany, we need to rely on our hosting at all times. With maxcluster we have chosen the right partner from the very beginning.
Mark Baukmann
Since we started working with maxcluster, we've been able to focus on what we do best: implementing powerful e-commerce solutions. The maxcluster team is rightly known for its outstanding support, and it even feels to us like we have our own DevOps team at our disposal. Particularly noteworthy are the extraordinary expertise and customization options, which go far beyond classic managed hosting.
Don Bosco van Hoi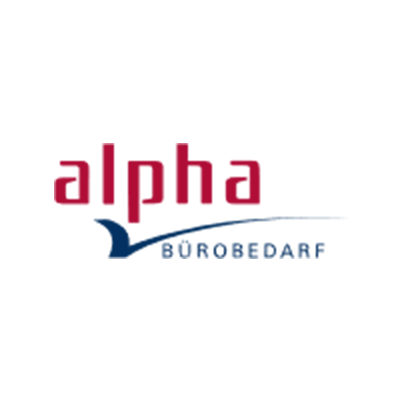 Once again, a big compliment and many thanks to your colleagues and maxcluster in general for the support during our switch to Shopware. You do a great job, have an excellent service and we feel very, very well taken care of with you!
Marcus May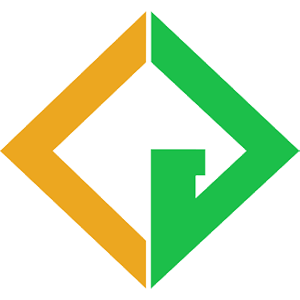 Sympathetic support staff, with whom you can talk at eye level - here you are really helped competently and in detail. We host - as far as possible - all projects at maxcluster, because it makes our daily developer routine more pleasant :-).
Simon Sprankel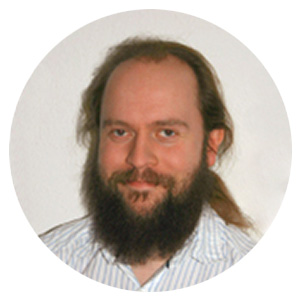 Where other providers are often at a loss, the maxcluster team is always there to help. So far, every problem has been solved. The technology stack is also impressive and enables flexible and independent work!
Andreas Golchert