Technology management – opportunities in the e-commerce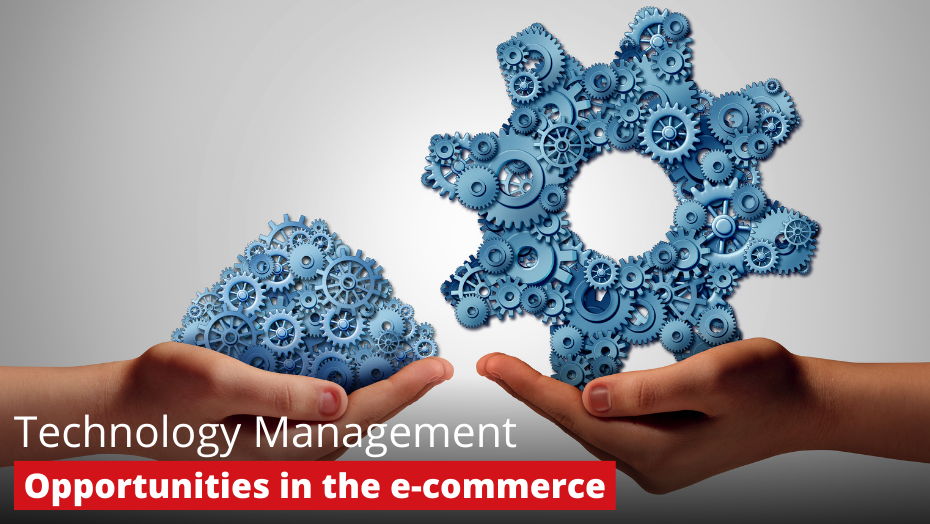 The use of software in e-commerce is usually not limited to a shop system. In this article we reveal how technology management supports traders to be successful in the long term.
If you want to stay ahead in a competitive market like online retail, you have to optimise the processes around your technological infrastructure and adapt them to the needs of the target group. These are subject to constant change, which is noticeable and visible almost daily due to digital innovations. Technologies used should always be in line with the strategic goals of the company.
What does technology management mean?
In addition to a shop system, numerous other software applications, frameworks, programming languages and tools are used in e-commerce. Hosting alone requires various web server, database management or caching technologies. The operating system and programming languages required for the shop system, such as PHP or JavaScript, are also included. Furthermore, depending on the individual requirements, software applications such as ERP, PIM or CRM systems are also used in online retail.
In order to maintain an overview, efficient technology management is necessary. This is to be understood as a tool that should support the achievement of business goals. Consequently, technology management goes hand in hand with the company's business strategy. It supports the mapping of existing processes, the implementation of new ones and the replacement of obsolete ones. It also serves to identify optimisation potentials and to monitor the use of technologies in the company.
What are the benefits of technology management in e-commerce?
E-commerce processes are usually geared towards an optimal user experience. This includes, for example, fast loading times, clear page navigation, search functions, diverse payment options at check-out, chatbots, live support and much more. Not only a shop system is used, but also many other technologies. These are interlinked in such a way that functional, legal and customer-relevant requirements are comprehensively mapped.
The introduction of technology management makes processes that require the use of technologies transparent. It also functions as a control body to analyse the efficiency of the processes.
Successful technology management minimises risks in ongoing operations, matches software requirements with software functions and identifies potentials of new technologies. In the best case, this even results in competitive advantages that contribute to future and innovative capability.
What aspects does technology management cover?
As a strategic approach to ensuring long-term business success, technology management is based on various aspects, which we will discuss in more detail below. Technology management is to be understood as a process that is divided into different steps.
Technology planning
The first step in technology management is to identify business goals and strategies. This is not yet a matter of evaluating technologies. Rather, technology planning is to be understood as a kind of requirements analysis with regard to technological goals. A distinction can be made between the current state and the target state.
The actual state defines processes in the company in which technologies are already used. The target state describes processes that cannot yet be adequately mapped, but which should contribute to the company's success in the future. Once the requirements are known, the technological needs can be defined. It can be helpful to prioritise the processes according to their importance for the company. It is also important to identify the opportunities and risks associated with the implementation of new technologies.
Technology procurement
Once the technology needs have been determined on the basis of the company's goals, the technology procurement phase follows. Here, it is important to identify technologies available on the market that fit the individual requirements of the company. Suitable starting points for researching technologies are, for example, review websites for software, trade magazines or events and trade fairs. Consultation with technology experts can also help to find suitable software.
Once suitable technologies have been identified, they need to be tested and evaluated. Software tests can be used to evaluate the extent to which the functions of the software match the requirements in practice. If technologies are to be used in conjunction with other software applications, the possibilities of technical connection must also be examined. If incompatibilities arise, alternatives may have to be sought.
During the evaluation, also consider assessments of stakeholders who are to come into contact with the technology. If the new software is to be used for internal purposes, relevant feedback can be obtained from your own staff. If the software will be used primarily by customers, it is worthwhile to collect feedback from reference customers.
Other factors that play a role in the selection of suitable software are the relationship between costs, benefits and risks. Before purchasing, the contractual conditions, licences and support services provided by the provider should also be known.
Implementation of the technology
After acquisition, the new technology must be integrated into the existing infrastructure. In the best case, this is done without interrupting ongoing business operations. However, it may be necessary to adapt existing processes for the start-up, for example if an existing software is to be replaced by a new solution.
The installation of new software should be well prepared. This is especially true if sensitive data has to be migrated. With appropriate precautions such as backups, it can be ensured that a rollback to the original state is possible if difficulties arise.
If the installation and data migration are successful, the application can be individually configured in a further step in order to adapt it precisely to the respective requirements.
Part of the introduction of a new technology is to train one's own employees in handling and maintenance. Especially when problems arise at short notice, it may be necessary to act quickly. Many software providers offer official certifications that are linked to the passing of content-relevant courses.
Technology monitoring
Once the technology has been successfully implemented and is in ongoing operation, its performance should be continuously monitored and evaluated. In this way, errors and potential for optimisation can be identified. In addition to monitoring the software during operation, its further development should also be observed.
New versions often bring changes in terms of use. The discontinuation of previous features can also have an impact on operation. Software updates usually bring not only functional enhancements but also better security measures. So a continuous update plan can also be helpful.
In order to maintain an overview, it is worthwhile to appoint fixed contact persons in the company for each technology used, who are responsible for monitoring. If problems arise in the course of further development or during operation, it is possible to react more quickly.
The monitoring of technologies during operation can be done with the help of various tools. To do this, it must first be determined which metrics are to be monitored or measured. This is usually done with the help of KPIs (Key Performance Indicators), which can be used as reference points for performance measurement. Tools for KPI measurement can be used in the following areas (exemplary list):
Application Performance: Monitoring and diagnostic tools can be used to continuously monitor application performance to diagnose errors and bottlenecks.
Log data: Log management tools can be used to monitor log files of applications and hardware components to obtain information about operation, errors and events that occur.
Error tracking: These tools helped to capture errors in the software. Some also provide troubleshooting information.
Server Performance: Monitoring server performance makes metrics such as CPU utilisation, memory usage and infrastructure availability transparent.
User behaviour: Analysis of user behaviour provides insights into the efficiency of the software in operation. For example, parameters such as user interactions or the conversion rate can be made measurable.
Security: Security tools monitor applications with regard to possible cyber threats or attacks. In this way, suspicious logins or accesses can be recorded and vulnerability analyses carried out.
Risk management
Technology monitoring is also accompanied by technology risk management. As already described in the areas of technology planning and procurement, basic risks associated with the introduction of new software should be identified in advance.
However, ongoing risk management goes beyond the known risk factors. It involves developing strategies and contingency plans to deal with external threats, technological disruptions or failures. When the worst comes to the worst, these must be followed closely to protect against cyber-attacks and ensure data security.
Strategies for a possible software exit are also part of ongoing risk management. This is particularly relevant if the company's requirements change in such a way that they no longer fit the software in use. Changes to the software itself, for example to the functions or the licensing model, can also make efficient use in the company more difficult.
In addition, it is possible that the provider will stop supporting the software. This happens, for example, when a technological successor has already been established on the market.
Those who continuously measure and assess the risks of the technologies used in the company can prevent dangers or act quickly when the worst comes to the worst. Those who also develop exit or change scenarios for the event that requirements change or the software is no longer available will generally not experience any unpleasant surprises that affect the success of the business.
Implementing technology management
If you want to introduce new technologies, you need the appropriate expertise for each technology. Either the technological know-how is mapped internally (qualification of employees) or purchased externally (for example via agencies and freelancers).
In addition, there are some tools to map technology management in its entirety. We present two of them in more detail here.
Technology radar
A technology radar is a frequently used tool in technology management. Its name and appearance can be traced back to a conventional radar that is used to locate objects. As the name suggests, a technology radar locates the status of various technologies in the company.
The technologies themselves are divided into four categories. Each technology category has its own quadrant on the radar. Depending on what types of technology are used in the company, categories can be formed individually. In the example below, a subdivision is made into techniques, tools, platforms as well as programming languages and frameworks.
In addition, a technology radar consists of several rings that represent the status of the technology in the company. The outer ring stands for Hold. It contains technologies that are common in the respective industry but do not quite fit one's own requirements. The second ring from the outside stands for Assess status. This collects technologies that are of interest to the company, but whose implementation is not (yet) required. The status Trial in the third ring from the outside contains technologies that add value to the company. With the aim of transferring them into ongoing operations, they are tested extensively at this stage. Finally, the inner ring with the status Adopt lists the technologies that have been successfully implemented and are now being used in active operations.
In addition, it can be helpful to mark further technologies with the status Blocked. These are not a visible part of the technology radar because reasons have been identified that speak against productive use.
Technology roadmap
A roadmap visualises the new and further development of products and technologies along a timeline. In addition, interactions between market requirements (external factors) and know-how or processes (internal factors) are also depicted.
Requirements are determined from the external factors in order to further develop the company's own products and services based on customer needs. With the help of internal know-how, relevant trends and technologies can be identified at an early stage in order to exploit their potential.
All factors have an impact on the evaluation and introduction of new technologies in order to create innovative processes for the further development of products.
Technology management at maxcluster
At maxcluster, technology management is an important means of constantly improving the quality of our offerings and services. This ensures that we keep an eye on the technologies required and relevant for our hosting architecture. Our e-commerce stack also stays up to date and can be extended with promising technologies.
We use a technology radar to visually represent technologies that are used in or relevant to our hosting architecture. In addition, there is an application radar where technologies are located that are used or evaluated for internal processes.
With the Technology Advisory Board, there is also a committee consisting of representatives from all technical departments. At regular intervals, technologies are considered on a cross-departmental basis. The board is responsible for shifts on the radar and defines rules for the inclusion of new technologies. All maxcluster employees can try out new technologies and bring them onto the outer ring of the radar. The board works out criteria and processes for dealing with these technologies. In this way, decisions for and against new technologies are made transparent.
Technologies that reach the status of Adopt receive a technology sponsorship at maxcluster. Fixed contact persons are defined internally who both build up expertise in handling the technology and keep an eye on its further development.
Conclusion
Technology management is a complex field, but it directly contributes to the business goals of a company. It influences not only the future viability but also the technological development of a company. Those who develop clearly defined processes for dealing with technologies remain flexible in the event of necessary changes and can, in the best case, secure valuable competitive advantages.
In addition to innovative aspects, technology management ensures greater transparency with regard to data protection and information security. Through continuous risk management, possible dangers, risks or incompatibilities can be identified and evaluated. The use of software can, for example, be accompanied by an update and patch plan to minimise risks to ongoing operations.
---
Published 07.06.2023 | DR
You have questions, requests, criticism, suggestions or just want to tell us your opinion about our blog? Here you have the opportunity to contact us directly.
Send e-mail